Paul-Son Isthmus City chips
We are finally able to offer genuine Paul-Son home poker chips again. These are the highest quality all clay 9.5g poker chips available. No other clay chip comes close to a genuine Paul-Son. Casino De Isthmus City was a fictional casino in the James Bond movie 'Licensed to Kill'. These are the exact same chips in use in many Las Vegas casinos today, including the Hard Rock.
AS OF 29 OCTOBER 2014 PAULSON ARE NO LONGER MAKING HOME CHIPS
I HAVE A FEW ODD CHIPS LEFT ONLY.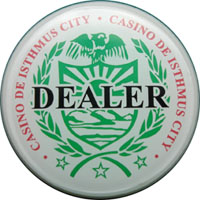 Please use the 'notes' box on the checkout screen to specify quantities/denoms wanted. You may select any combination of chips you like for any size set. Click here for other frequently asked questions.
Racks and cases can be purchased separately. Click here.
Delivery time for sets 7 to 21 days depending on US manufacturers stocks, and all sets are shipped directly from the US wholesalers, to any address worldwide. Shipping rates are at cost and base prices are accordingly lower to compensate.